Astrology Horoscope Readings
Helping to Reconnect You to Your Core, Spirit and Life Purpose

In-person sessions for Miami and South Florida.
Phone sessions for out of town and international clients.


Audio CDs of of the session, a printed report, and color horoscope are complimentary.
To schedule a reading or for more information

contact@astrologyhoroscopereadings.com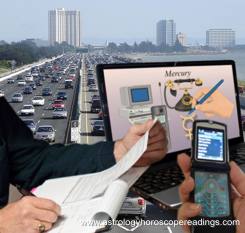 Mercury is associated with communication, information, the way we interact with others and our surroundings and neighborhood. This includes local travel, schedules and our relationship with our siblings. When Mercury is retrograde, there is a greater tendency for issues to develop in these areas collectively and personally in our lives. Only about 25% to 30% of people are directly affected during a Mercury Retrograde Cycle.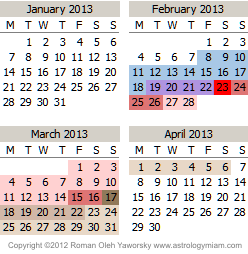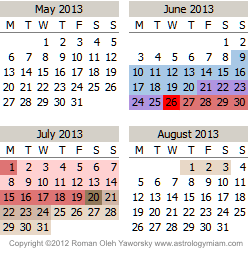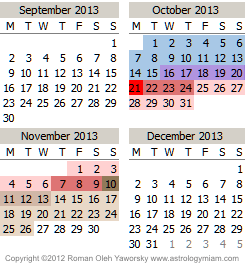 Legend

Pre-Shadow phase
Pre-Shadow phase intensified

Mercury Retrograde Station

Mercury Retrograde Phase intensified

Mercury Retrograde Phase

Mercury Direct Station

Post-Shadow phase intensified

Post-Shadow phase
2013 Mercury Retrograde
Calendar
The Mercury Retrograde Cycle
Mercury Retrograde is that period of time in which the Planet Mercury appears to be going backwards against the stars in the sky. This usually occurs 3 or sometimes even 4 times in a year.
Why does Mercury appear to go backwards?
Mercury's orbit is closest to the sun, so it completes its orbit in about 88 days, compared to the earth's of about 365 days. As a result, from our perspective we first experience mercury moving forwards as it passes by the earth on our side of the sun, and then it seems to slow down and begin to move backwards as it races along on the farther side of the sun from our perspective.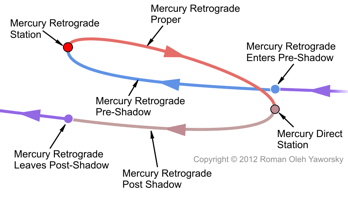 How to Use the 2013 Mercury Retrograde Calendar
The calendar highlights the significant phases of Mercury Retrograde using different colors:
The Mercury Retrograde Pre-Shadow phase is shown in blue, with violet indicating where the effect tends to be felt more strongly.
The Mercury Retrograde phase is shown in light red, with the time that Mercury is in Retrograde Station indicated in dark red. During the retrograde phase, a darker color is used to highlight the time when Mercury is moving more slowly and when its effect tends to be felt more strongly.
The Mercury Retrograde Post-Shadow phase is shown in brown. The Mercury Direct Station, as Mercury stops its retrograde motions and is about to move forwards again, is indicated in dark brown. While Mercury is still moving slowly and has not speeded up, the effect of this phase tens to be felt more strongly and is indicated with a darker color.
A more detailed description of each stage of Mercury Retrograde and the main issues and considerations is found here in the

2015 Mercury Retrograde Calendar page.
Mercury Retrograde and the Sun Signs
Each sun sign has its own unique contribution and interaction with the Mercury Retrograde Cycle. That contribution is found at the bottom of the Sun Signs Menu.