The retrograde in Pisces, suggests that some miscommunication may show up in the media, especially in ideals, confusion, and assumptions that came from not seeing what was real at an earlier time.
Please note that this calendar begins on a Monday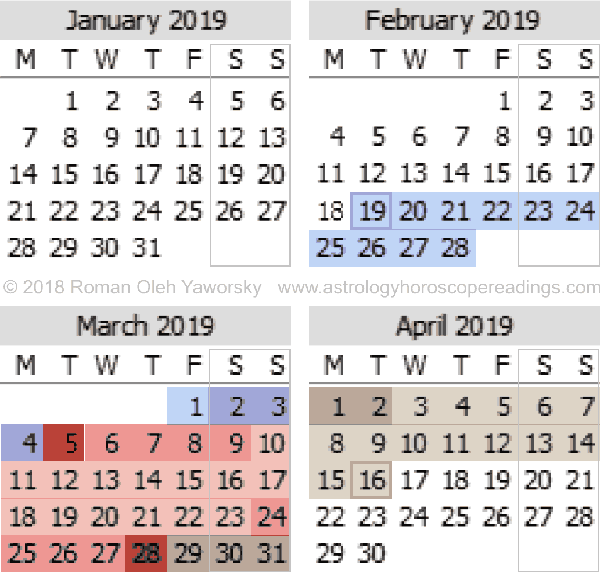 During the last retrograde in Pisces in February of 2014, Yanukovych was overthrown in Ukraine, followed by the Russian annexation of Crimea and the War in Donbass. During the shadow phase that followed the retrograde, Malaysia Airlines Flight 370 disappeared, leading to one of the greatest aviation mysteries of all time.
The first Mercury Retrograde of 2019 begins with the Pre-Shadow in Pisces (16º 6") on February 19, 2019, at 2:19 pm Universal Time*, 9:19 am EST, 6:19 am PST.
Mercury goes Retrograde in Pisces (29º 39") on March 5, 2019, at 6:19 pm Universal Time, 2:19 pm EDT and 11:19 am PDT.
The Direct Station occurs in Pisces (16º 06") on March 28, 2019, at 1:59 pm Universal Time, 10:59 am EDT and 7:59 am PDT.
Mercury ends the Post-Shadow on April 16 at 8:03 pm EDT, April 16, 2019, 12:03 am Universal Time, April 17, 2019