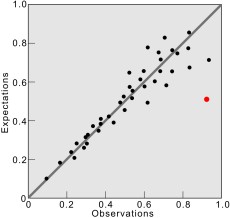 It is not uncommon for researchers to treat an unexpected result as suspect, and when a possible or convenient explanation is formulated for considering it not a valid observation, to eliminate it.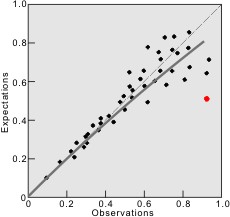 Unfortunately a bias of expectations, in determining expected outcomes may easily lead to the removal of significant data.
Later researchers face an increased challenge if their results contradict established and published work. This can be even more significant, if the reason that some of the data veered away from expectations, was that it indicated a more complex process, rather than the simple one expected. Examples of where this can become a major problem have occurred in pharmacological studies of drug interaction.
The Consequences of Cherry Picking
Of course, intentional cherry picking can skew the results and promote an incorrect conclusion, or an incorrect confidence level for the data being presented, and this behavior would be rightly considered fraudulent, when it is uncovered is treated as such.
More common has been the practice of removing data points that were not consistent with expected observations. It is not uncommon to re-examine older research and find that in 'cleaning up' or removing inconsistent 'artifacts', evidence that would have pointed to new paradigms was buried and this delayed progress.
The consequence of cherry picking is that it tends to promulgate itself. If previous publications have cherry picked, then it is more difficult to convince peer reviews that your own observations are accurate or valid without doing the same.
Beyond Cherry Picking
There are other kinds of cherry picking that effect larger scopes of research. Examples abound in archeology. For decades, artifacts have been discovered by reputable investigators, or authenticated with signed statements verifying discoveries, that were ignored because they did not fit the beliefs of the day. Even whole structures were unearthed and although invitations were consistently offered for researchers to investigate the evidence, no one came.
A case in point were the discoveries of pottery and other artifacts in the Andes that were dated to be tens of thousands of years old. They were ignored by mainstream archeology, because of the belief that all of the indigenous populations of North and South America came from the Alaskan-Bering Land Bridge during the last part of the Ice Age, about 12,000 years ago. This theory was supported by the absence of sites older than that date in North America.
More recent excavations in the southern parts of North America and in South America have shown that there were in fact civilizations dating back at least 34,000 years, and that migrations extended from Asia over several ice ages.
Winston Churchill is quoted as having something to say about this. He is quoted as saying: "Men occasionally stumble over the truth, but most of them pick themselves up and hurry off as if nothing ever happened."

When researchers encounter something that fundamentally contradicts what they believe, they usually ignore it as an anomaly. Those that have the courage to investigate it more often than not, because it goes against the grain of accepted and safe belief, face the ridicule and avoidance of their colleagues.