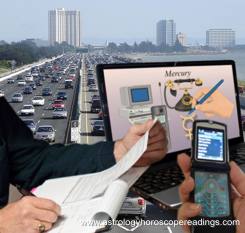 When Mercury is retrograde, we tend to notice more issues in the areas of communication, in the way we interact with others and in our surroundings and neighborhood. It may also show up in our travel, the way we get around and in our interaction with our siblings.
Please note that this calendar begins the week on a Monday!
January 2018 Completion of Mercury Retrograde in Sagittarius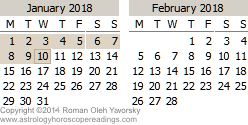 2018 begins at the tail end of a Mercury Retrograde cycle where Mercury entered the Post-Shadow after going direct on December 23, 2017 in Sagittarius (13o 00"). The Post-Shadow ends on January 10 at 4:31 pm Universal Time (11:31 am, EST).
April 2018 Retrograde in Aries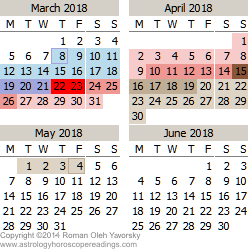 The first full Mercury Retrograde cycle of 2018 begins with the Pre-Shadow on March 8 at 10:54 pm EST, and March 9 at 3:54 am UTC*.
Mercury Retrograde Station occurs at 00:19 am UTC*, on March 23, 2018 in Aries (16o 54"), and March 22 at 7:19 pm EST
Mercury goes direct on April 15 at 9:21 am UTC*, in Aries (4o 47")
Mercury leaves the Post-Shadow on May 3 at 8:59 pm UTC*, 4:59 EDT.
July 2018 Mercury Retrograde in Leo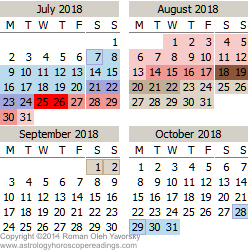 The cycle begins with the Pre-Shadow at 2:35 pm UTC* on July 7.
Mercury Retrograde station occurs at 5:02 am UTC*, on July 26, in Leo (23o27"). Note that in North America on the west coast, the station occurs on the evening of July 25.
Mercury Direct station occurs at 4:25 am UTC* on August 19 and the late evening of August 18 on the west coast of North America.
Mercury leaves the Post Shadow on September 2 at 1:37 am UTC*, 9:37 pm DST on September 1.
December 2018 Mercury Retrograde in Sagittarius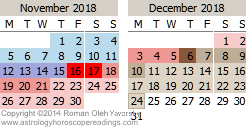 Mercury rules Gemini, so its retrograde in Sagittarius, which acts as Gemini's shadow. should prove interesting! In 2017, the December retrograde in Sagittarius presented a clash between the US and the United Nations.
The cycle begins with the Pre-Shadow in Scorpio on October 29 at 12:50 am (October 28 at 8:50 pm EDT) shown on the preceding chart.
Mercury Retrograde station occurs in Sagittarius (29o30") at 1:33 am UTC* on November 17 and 9:33 pm EST on November 18.
Mercury goes direct at 9:22 pm UTC* on December 6 in Scorpio (27o16"). The Post-Shadow ends on December, 2018 at 11:26 am UTC*.

Please note that all times are approximate. The actual times are defined by the observer location and vary due to parallax.
* Coordinated Universal Time (UTC) replaced Greenwich Mean Time in 1961. They are often used interchangeably.
2018 Mercury Retrograde Calendar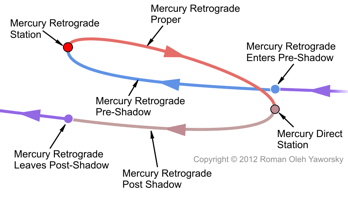 How to Use the 2018 Mercury Retrograde Calendar
The calendar highlights the significant phases of Mercury Retrograde using different colors:
The Mercury Retrograde Pre-Shadow phase is shown in blue, with violet indicating where the effect tends to be felt more strongly.
The Mercury Retrograde phase is shown in light red, with the time that Mercury is in Retrograde Station indicated in dark red. During the retrograde phase, a darker color is used to highlight the time when Mercury is moving more slowly and when its effect tends to be felt more strongly.
The Mercury Retrograde Post-Shadow phase is shown in brown. The Mercury Direct Station, as Mercury stops its retrograde motions and is about to move forwards again, is indicated in dark brown. While Mercury is still moving slowly and has not speeded up, the effect of this phase tens to be felt more strongly and is indicated with a darker color.
A more detailed description of each stage of Mercury Retrograde and the main issues and considerations is found here in the

2017 Mercury Retrograde Calendar page.
Legend

Pre-Shadow phase
Pre-Shadow phase intensified

Mercury Retrograde Station

Mercury Retrograde Phase intensified

Mercury Retrograde Phase

Mercury Direct Station

Post-Shadow phase intensified

Post-Shadow phase


The Two Levels of Mercury Retrograde
Mercury retrograde occurs at two levels. At one level, there is not much you can do with the actions of others, except to be more conscious and prepare for delays and errors by double checking.

But at the personal level you can do a lot in order to avoid the consequences of Mercury Retrograde. Most of us encounter the consequences when we are not centered, aware or conscious of what is going on around us, and more often than not the culprit is that we are not acting from our heart and spirit.
Instead we are reacting from our needs, our hurts, from our buttons being pushed, or the way that we take care of others and not ourselves. In that way we act from our shadow, and that is what mercury retrograde is all about.
Mercury Retrograde occurs when it is moving backwards, into its shadow, and thus communication, scheduling, transportation and judgment becomes cloudy or error prone. As much as outer work is challenged by Mercury Retrograde, introspection and inner work is very supported. Take advantage of Mercury Retrograde by clearing your own tendencies to get caught up in your own shadows and those of others.

If you seek to take advantage of this opportunity, I heartily recommend you consider getting this book: It is a direct and practical guide back to your core and greater becoming, without the fluff.

Being Centered.